Lucerne Carnival badge campaign 2022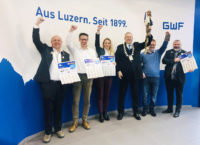 The Lucerne Carnival is an annual highlight for young and old alike, which begins on Dirty Thursday and ends on Ash Wednesday.
With this year's carnival sticker campaign, we are once again setting an example and putting a smile on our customers' faces. Because the carnival merry-go-round keeps on turning! Carnival fans can look forward to one or two festivities.
For this campaign, we have purchased 300 silver badges from the Lozärner Fasnachtskommittee (LFK), which have been sent to selected customers in Switzerland.