GWF at the expo plus 2022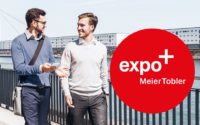 Visit us at expo plus 2022 – the Meier Tobler AG in-house exhibition with symposium. Exciting specialist presentations and roundtable discussions await you.
In 2022, the expo+ in-house exhibition will be the most important event of the year in the industry. Meier Tobler AG invites its specialist partners to the following dates:
Tuesday, 22 March 2022, Pallazzo dei Congressi, Lugano
Thursday, 31 March 2022, Bernexpo, Berne
Thursday, 07 April 2022, Umweltarena, Spreitenbach
Wednesday, 04 May 2022, Congress Beaulieu, Lausanne
Reserve your free ticket now for the Meier Tobler in-house exhibition and symposium and benefit from the personal exchange with the 35 exhibitors.
You will find more information at: expoplus.meiertobler.ch
Our team is looking forward to seeing you!