The responsible use of natural resources starts with knowledge about their consumption. In a world with limited resources, GWF makes the difference in our daily actions. Through our products and services, we show our customers and the end consumer exactly where and how consumption occurs with proven technologies and innovation.
History

:

Over 120 years of success
2021
GWF honoured as Innovation Award Winner 2021
The awarding of the 35th IHZ Innovation Prize to GWF MessSysteme AG. The Lucerne-based company was awarded for the development of the Sonico. This water meter, equipped with a patented ultrasonic measurement system, is used for the measurement and billing of fresh and process water. Ivo Schillig, AlpEnForCo Alpine Energy Research Centre Foundation, gave the laudation for GWF MessSysteme AG. He emphasised the innovative strength of the company, which is over 100 years old.

2021
March 2021: Opening of a Sales and Service Center in Bedford (UK).
August 2021: GWF expands towards Eastern Europe with the Sales and Service Center in Poznan (Poland).

2020
Great Place to Work Certification
We support our social environment and develop our working models in a targeted manner in order to be an excellent employer for our employees.

2019
GWF MessSysteme AG celebrates its 120th birthday! Since 1899, the company has been continuously developing and is one of the innovation drivers for products and concepts for the sustainable use of the resources gas, water, electricity and district heating.

2018
The corporate design of GWF MessSysteme AG becomes more emotional. "We go the extra mile" is the performance promise that GWF also keeps to its customers in its daily work.

2018
GWF Labs GmbH is founded in Laatzen near Hanover (Germany) to develop new measurement technologies.

2018
GWF Technologies GmbH is founded in Kaufbeuren (Germany). In addition, the measurement technology of Hydrovision GmbH in the field of hydrology, wastewater, canals, hydropower and water supply is integrated into the company. Software development teams are established in Southern Europe.

2017
The parent company GWF takes over the product and system business of its subsidiary e-lynx and thus becomes the provider of Iskraemeco meters and systems in Switzerland. Its energy and metering services business is sold by e-lynx AG.

2015
With the strategic programme "GWF Excellence", GWF resolves to comprehensively professionalise all relevant company divisions and is working at full speed on the measurement systems and services of tomorrow.
2014
GWF founds the subsidiary e-lynx AG for the product launch of its smart meter, the electricity meter of the future.

2013
GWF introduces the GWFcoder® system with an 8-roll totalizer and litre resolution.

2010
GWF is entering a new growth market with the sale of electricity meters and thus offers its customers a range of services that spans all lines of business.
2009
A completely renewed corporate design and the new slogan "swiss.smart.simple." ensure a new, contemporary and modern brand identity for GWF.

2004
The change of name to "GWF MessSysteme AG" documents the transformation of GWF from a pure manufacturer of measuring instruments to an innovative technology and solution partner.

2002
In order to create production capacities for the high international demand for the GWFcoder® system, GWF cooperates with the company Escatec in Malaysia. Only two years later, series production begins there.

1999
GWF celebrates its 100th anniversary. One year later, there is a new reason to celebrate again: the company reports 1 million GWFcoder® totalizers sold.

1997
GWF introduces the patented GWFcoder® system for transmitting the effective meter reading of gas and water meters – a key technology for automated reading and transmission of live data.

1996
GWF becomes the first official EU calibration body for gas and water meters and volume measurement parts in Switzerland. This means decisively shorter delivery times for Switzerland's customers, as calibration abroad is no longer necessary.

1995
After a three-year construction phase, the new GWF building in Lucerne is completed. In the same year, the just-in-time principle is introduced in order to shorten lead times and to be able to implement customer-specific wishes more quickly.

1992
GWF is the first company in the gas, water and heat meter industry to be awarded the ISO 9001 quality management standard certificate.

1987
GWF is approved by the Swiss Federal Office of Metrology (EAM) as an official inspection body for heat meters.

1960
A major fire on the company premises destroys more than 1000 gas meters and almost leads to disaster: At the time, a mineral oil business adjoins the company premises.

1940
In cooperation with Wasserversorgung Zürich, GWF develops its first water meter, a wet-rotor meter with a roller counter.

1930
The company is converted into a public limited company and renamed "Gas- & Wassermesserfabrik A.G., Lucerne". GWF begins manufacturing water meters, initially under licence from Siemens.
1899
Johannes Ferdinand Siegmar Elster establishes branches in Lucerne and Rotterdam. The company name is "Gasmesserfabrik Luzern, Elster & Co., in Lucerne" from 1899 to 1923, then "Elster & Co., in Lucerne" until 1927.

1848
Siegmar Elster, then 25 years old, founds the company "Elster Gasapparate" in Berlin to manufacture street lamps, gas lamps and gas meters.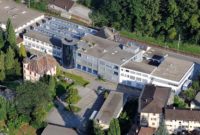 ORGANISATION

:

Get to know GWF better

GWF MessSysteme AG is the leading company for flow measurement and consumption data acquisition of gas, water, electricity and heating in Switzerland. We offer our customers trend-setting system solutions for the acquisition, communication and management of measurement data.

GWF is a Swiss family-owned company with over 240 employees and a success story spanning more than 120 years and is your innovative partner for metering systems and meter data management.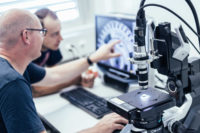 Quality Management

:

Quality is lived at GWF

The entire company is ISO 9001:2015, ISO 14001:2015, ISO 27001:2013 and ISO 45001:2018 certified. GWF operates an accredited calibration facility in accordance with ISO 17025:2018. GWF's product portfolio includes equipment and systems used in potentially explosive atmospheres. The management system has been audited and certified in accordance with the European Directive 2014/34/EU for equipment and protective systems intended for use in potentially explosive atmospheres according to DIN EN ISO 80079-34:2012.
Culture

The Team-Work at GWF
swiss.smart.simple. – This is how customers, partners and employees experience GWF.
GWF's claim is to be a competent and reliable partner. GWF stands for quality and delivers well thought-out, high-quality products and results. In doing so, GWF assumes entrepreneurial responsibility and drives innovation. The focus is always on continuing to learn. This applies to the entire company, the services, the respective teams as well as to each individual employee. The GWF teams work in a solution-oriented manner and approach their tasks with initiative and joy.
Sustainability

:

Step by step towards a better future

GWF's work stands for the sustainable use of resources and energy. To this end, the company also provides the necessary resources and structures in production and research to continuously improve environmental performance. GWF promotes environmental awareness and knowledge among its employees. GWF motivates its employees to act in an environmentally friendly manner.

GWF avoids and reduces waste and emissions wherever possible and stands for the recycling of materials. The environmental compatibility of all products is communicated transparently. GWF is committed to dialogue with authorities and interested groups.
Memberships in which GWF is involved
GWF is committed to improving the framework conditions for the industry in associations and in politics in order to keep jobs in the industry attractive and to secure them in the long term.